Company Name
Contact Info
Location

BSM PVC VE ALÜM. İŞL. MAK. - MEHMET SAİT TURGUT

Samanlı Mahallesi İsmetiye Caddesi No: 34 / Yıldırım / BURSA / TÜRKİYE

Hall: 3

Stand: 304

Product Groups

PVC Profile and Profile Processing Companies
Aluminum Profile and Profile Processing Companies
PVC Profile Window Systems and Supplementary Products Producers
Manual Automatic and Computer Controlled Profile Window Production Machines
Shutter Panels Louver Motors Shutters Rails
Company Info

Products

Represented Companies

Company Brands
Our young and dynamic team in 2013. PVC & Aluminum Processing Machines that are already in the industry to be a fresh breath of our company is in Bursa originating from its establishment serves all over Turkey with since the team of experts and the latest technological enterprise opportunities. We have the infrastructure and knowledge to meet all the technical needs of our sector in the field of PVC and Aluminum Processing Machines with our service with young point of view and vision by always working with customer satisfaction principle by adopting the principle of solution focused service, our company keeps the pulse of the industry with its rapid supply support. Our production facilities are exported to 20 countries, mainly Europe, Balkans and Turkic Republics. It is produced with 100% customer satisfaction principle with high efficiency and guarantee for pre-sales and fast service and spare parts for after-sales support, and after-sales services are provided. Our company, which carries out reliability and quality policy through its expert team, is among the most valuable companies in the sector today and continues to work without sacrificing our principles and service policy.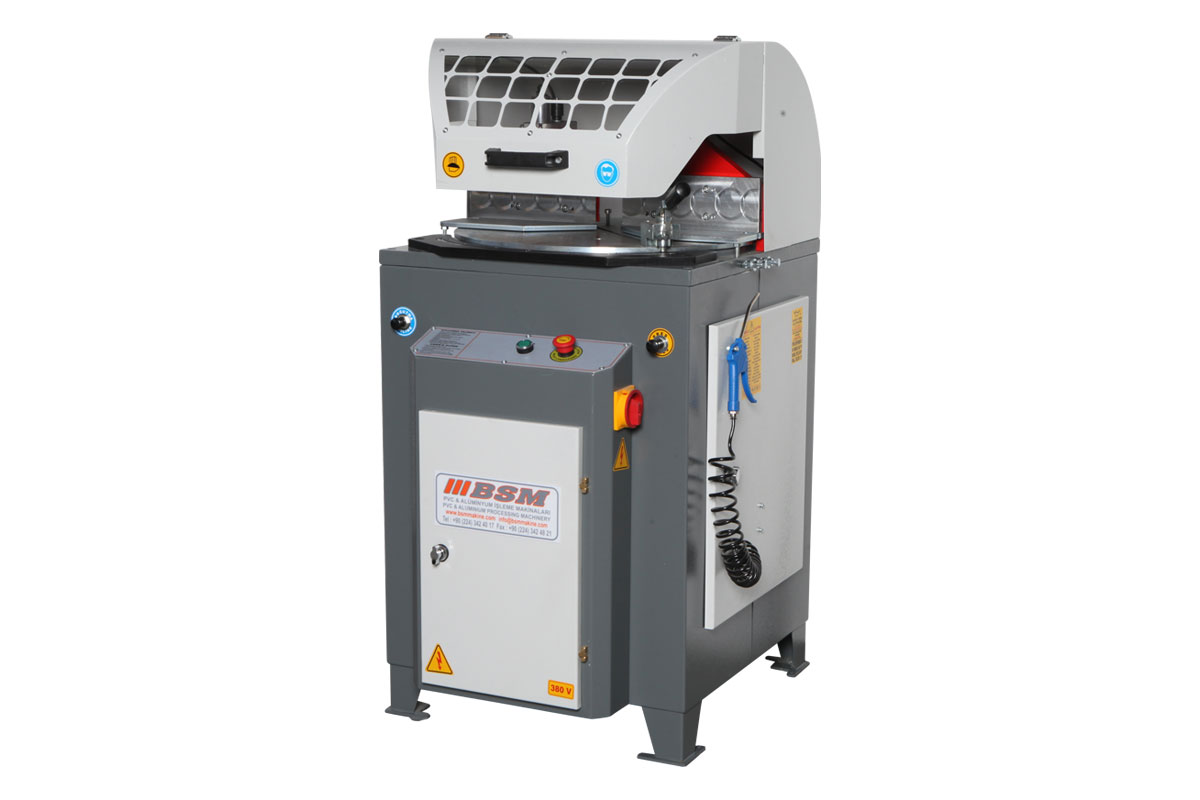 SINGLE CORNER CUTTING MACHINE
SINGLE CORNER CUTTING MACHINE
PRODUCT DESCRIPTION:
Using for sensitive cutting PVC and Aluminum profiles Special adjustment stopper for 45° - 90° - 135° cuttings Cutting process between 22.5° and 112.5° Adjustable saw progress speed for pvc and aluminum profiles Pneumatic clamping system Diamond saw dimention is Ø 450 мм 2.40 m right and left side conveyor system Spray saw blade lubrication system Air gun
SINGLE CORNER WELDING MACHINE
SINGLE CORNER WELDING MACHINE
PRODUCT DESCRIPTION:
Enable the welding of all angles between 30°-180°infinitely adjustable All parameters such as melting and welding time, welding pressure are set independently Clamping the profiles separately via foot pedal Automatically start and finish the welding cycle Welding possibility for white and laminated profiles Maximum welding strength and quality Adjustable welding and profile pressure 0.2 mm welding range Easy to use thanks to the cleaning of the plates and a very simple and quick change of
END MILLING MACHINE
END MILLING MACHINE
PRODUCT DESCRIPTION:
Using for end milling connections for pvc profiles Pneumatic profiles clamping system Adjustable milling speed Diamond blade using according to type of profile Milling feature of being able to move with pneumatic cylinder engine Working with single or double blades
TRIPLE SPINDLE COPY ROUTER WITH WATER SLOT MACHINE
TRIPLE SPINDLE COPY ROUTER WITH WATER SLOT MACHINE
PRODUCT DESCRIPTION:
Using for the processing of slots for locks ,openning water drain slot, door handle and three spindle router operations of PVC and aluminum profiles Copy motor working function at vertical axis Triple spindle system working function at angled axis Universal top template ( optionally different top template can be done ) Triple drilling , copy drilling and other function can wok separately Working by one button and fully automatic Cooling system for aluminum profiles Air gun
GLAZING BEAD SAW MACHINE
GLAZING BEAD SAW MACHINE
PRODUCT DESCRIPTION:
45°. degree cutting possibility for pvc glazing bead profiles Adjustable universal glazing bead mould Automatic working system 2.40 m adjustable length stopper for long frames and metric conveyor system Adjustable cutting system Pneumatic profile clamping system Possibility of cleaning glazing bead dusts with four blades Big blades Ø 200 mm Small blades Ø 100 mm Air gun
DOUBLE CORNER CUTTING MACHINE
DOUBLE CORNER CUTTING MACHINE
PRODUCT DESCRIPTION:
It is an automatic sawing machine designed for straight cutting or cutting at an angle of PVC and aluminum dimensional profiles using the Ø 450 twin-head saw. At the same time possibility for cutting double profiles Full Automatic sensitive touch screen monitor Unlimited memory program Possibility for cutting PVC and Aluminum profiles 450 mm. diamond tooth saws Workable at single corner and fast sliding mode Auto cross for the two corner 45 and 90 each two angles Cutting possibility of intermediate angles Cutting accuracy Support unit for profiles at between two corners Cooling system for aluminum cutting Remote Control directly from computer or dimentions input saving with flash memory and problem solving Optionally Barcode printer can be added Machine error and failure notification Selecting Csv file from screen Profile cutting capability up to 6mt
No represented companies found.
The company has no registered brand information.