Company Name
Contact Info
Location

AKPA ALÜMİNYUM SAN VE TİC A.Ş.

Hürriyet Mah. Dr.Cemil Bengü Cad. No:6 / Kağıthane / İSTANBUL / TÜRKİYE

Hall: 2

Stand: 215

Product Groups

Aluminum Profile Window Systems and Supplementary Products Producers
Aluminum Window Mechanisms
Window Handles
Window Hinges
Single Leaf / Double Leaf Espagnolettes
Vent Sash Parallel Sliding Window Mechanisms, Folding Window Mechanisms
Guillotine Vertical Sliding Window Accessories
Glass Balcony And And Winter Garden Systems
Exterior Systems
Facade Cladding Systems Aluminium, Pvc, Glass etc...
Curtain Wall Pannels
Facade Systems
Aluminum Balustrades, Railings, Products and Accessories
Aluminum Profile, Tube, Bar, Composite, Plate and Ignot
Company Info

Products

Represented Companies

Company Brands
Akpa Aluminium was established in 1987 in İstanbul. Akpa Aluminium pays attention to continuous development since the day it was established. It executes domestic sales and international exports to many countries. Apart from the ever developing brand reputation and being in the first three brands that comes to mind in the countries of export, Akpa Aluminium is also a leading company in Turkey's aluminium market.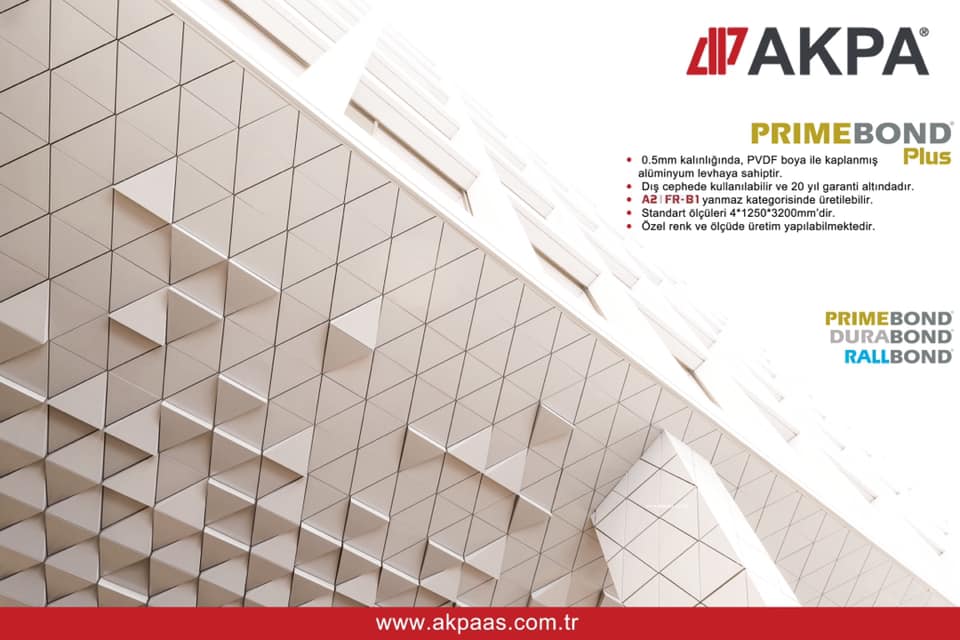 Primebond
Aluminum Composite Panel
PRODUCT DESCRIPTION:
Has a 0.5 mm thick aluminium plate, coated with PVDF paint. It can be used on the exterior and is under warranty for 20 years. Can be produced in the A2 and FR/B1 fireproof category. Standard sizes are 4 1250 3200 mm. Production of custom color and size are possible.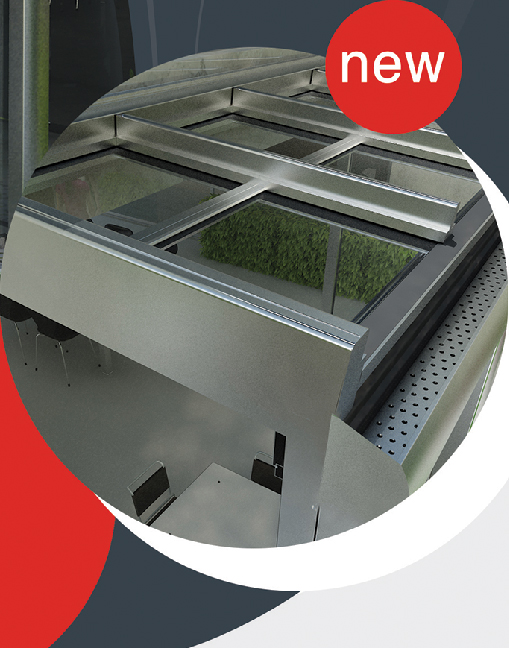 WG70 Winter Garden
New Systems
PRODUCT DESCRIPTION:
Technical Specifications High temperature resistance, (Uf = 1.85m2 / K) Innovative Design, Groove details and pipe covering profiles, Different angle alternatives, Easy installation and glass applications, Robust connections with steel-reinforced, strong structure Option to be carried in itself, on hidden steel construction, Lathe connections at the bottom details for the installation of window, door and sliding type joinery Option to produce glass in desired separations with finishing and mullions.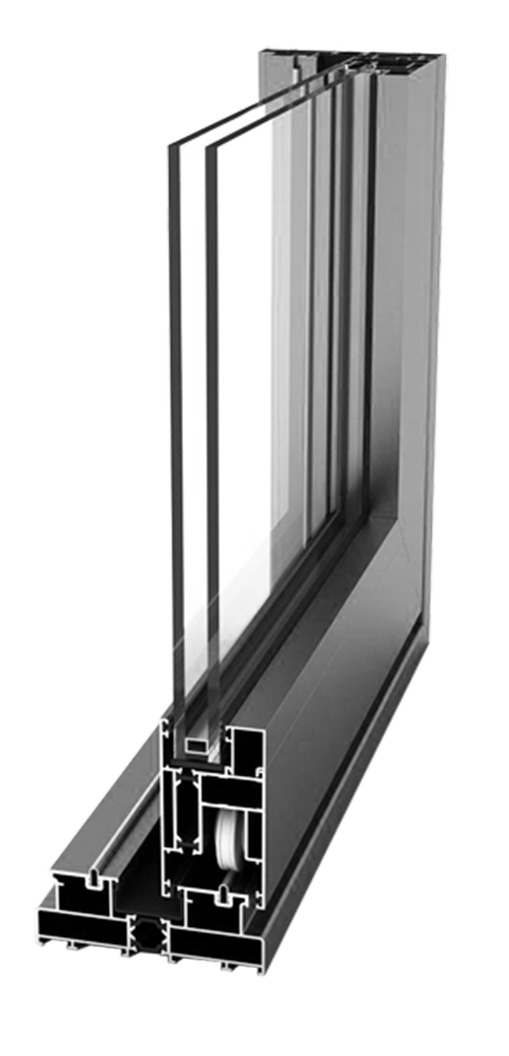 HS55 Thermo
Lift and Slide
PRODUCT DESCRIPTION:
Technical Specifications Ideal system for wide openings Full solution capability for all lift slide window and door types The highest air-tightness and sound insulation level with special round EPDM wicks used instead of brush seals Wing weight up to 300 kg Performance-enhancing stainless steel rail application High-security lock application with multiple points Option to use auto lift slide mechanism 12 mm and 20 mm polyamide insulation bridge Wing width 55 mm Glass application option up to 24-30 mm thickness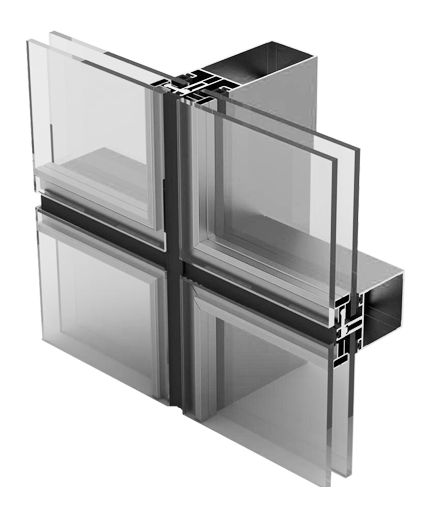 PRODUCT DESCRIPTION:
Maximum air and drainage performance through drainage (condensate) channels Silicon facade view and lack of tapes at fixed sections Durability due to all the wicks being EPDM Practical and problem-free detail solutions Case width: 50 mm Uninterrupted glass facade display with glass holder clips Glass façade integrity with silicone bonding process Electrostatic paint (RAL) and anodized color application options Ease of manufacture and installation Glass combination between 6 – 32 mm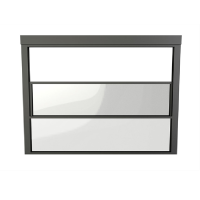 SH110 Motor Guillotine System
Motor Guillotine System
PRODUCT DESCRIPTION:
• 8 mm glass can be used • Vertical movement is ensured with steel reinforced belts • When sashes are at the bottom position, it can act as a handrail • Easy to install with stylish and modern design • With its interconnecting sashes, provides seamless view • Covered channel closures, adjustable belts and alignment wheels provide easy handling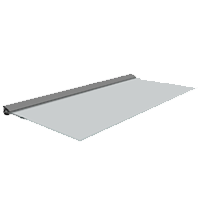 PS90 Glass Canopy Porch System
Glass Canopy Porch System
PRODUCT DESCRIPTION:
• Long span of life elegant • Increased safety with 16mm tempered laminated glass • Maximum 2 meter wideness with a single system • Can be applied side by side for wider solutions • Up to 90 kgs snow load carrying capacity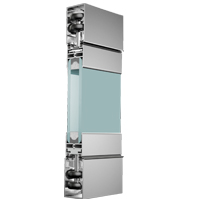 ICB 40 Folding Glass Balcony System With Thermal Glass
Folding Glass Balcony System With Thermal Glass
PRODUCT DESCRIPTION:
• 30 mm Double-Glass thickness • Max. 600 mm sash height • Max. 2.900 mm sash height • Special solutions for angled balconies • Espagnolette lock system with sunken or ratchet handle • Ability to use Jalousie/Venetian blind between glasses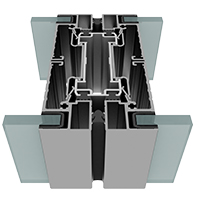 OP 100 OFFICE PARTITION SYSTEM
OFFICE PARTITION SYSTEM
PRODUCT DESCRIPTION:
• Partition wall system with joints and clips • Minimizes sound in wood and glass coatings. • Possibility to design whole as wooden and glass as 10 cm wall • High sound insulation up to 45 decibels • Horizontal and vertical 6 mm fuga • Easy adjustment and disassembly thanks to double glazed semi-monobloc units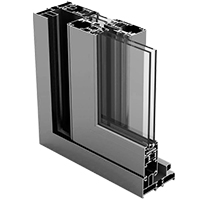 S 38 THERMO SLIDING SYSTEM
SLIDING SYSTEM
PRODUCT DESCRIPTION:
• Suitable for medium and large openings • Ideal solution for all kind of sliding systems • Maximum heat and sound insulation with premium weather strips • Sash weight: Up to 102 kg • Sash width: 38 mm • 15, 18, 25mm polyamide insulation barriers • Glazing thickness can go up to 22 mm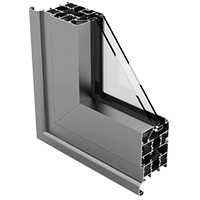 WD70 THERMO
Door and Windows System
PRODUCT DESCRIPTION:
• Options to use dual-axis, lift slide and similar mechanisms of PVC and wooden systems • Increased heat resistance with special thermal breaks • 15mm and 24 mm polyamide insulation barriers • Frame width: Up to 91 mm • Sash width: Up to 77 mm • Glazing thickness can go up to 42 mm
No represented companies found.